Even though the Tacna region of Peru isn't known for waterfalls, it's home to 3 that will take your breath away. These are nestled far away from the beaches where most people go and are hidden deep in the desert. Despite being multiple hours away from Tacna, they are well worth visiting. There's more to Tacna than beaches and immigration crises, and these waterfalls are the perfect press that this underrated region deserves!
When making the trip, visitors are faced with two options. The first is renting a car and exploring them at your own speed and the second option is taking a tour. Each one has its pros and cons, but for most people taking the tours is the cheapest option. Just make sure to make any negotiations in Spanish, otherwise you will be charged like a tourist who got lost on the way to Machu Picchu.
In this article, we will explore 3 of the waterfalls that are hidden gems in Tacna's desert. On top of being an adventure to get to, these attractions provide a glimpse of the region that's routinely overlooked. This isn't your typical list of tourist spots, so get ready to escape the beach and explore areas that only locals are hip to!
Top 3 Waterfalls Around Tacna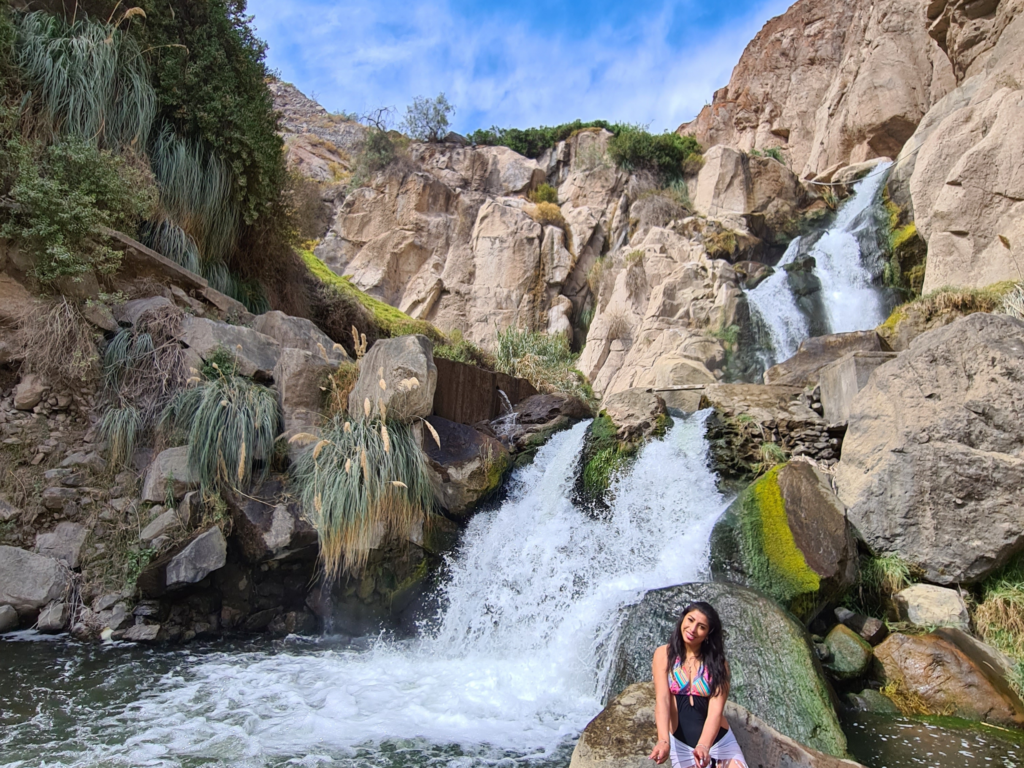 Waterfall #1: Catarata de Panina – This attraction is nestled in the district of Ilabaya in the province of Jorge Basadre. It's fueled by the rebellious waters of Río Camilaca and has an aggressive 30-meter fall. The waterfall has two levels, with the second level being the most spectacular. Most of the journey is made by car, so the 3-hour drive flies by as you barrel down the highways outside Tacna's city limits. Thanks to a recent extension of the road, it's only a half hour hike to the falls. This easy accessibility and relatively low amount of visitors makes this waterfall the perfect place to escape to!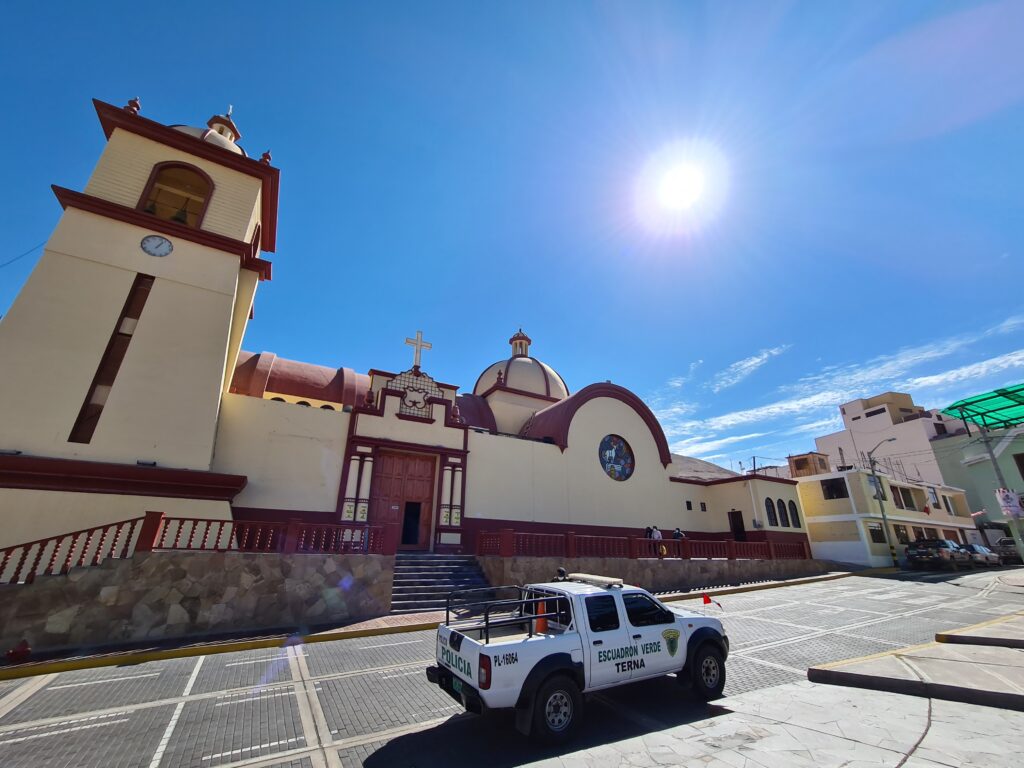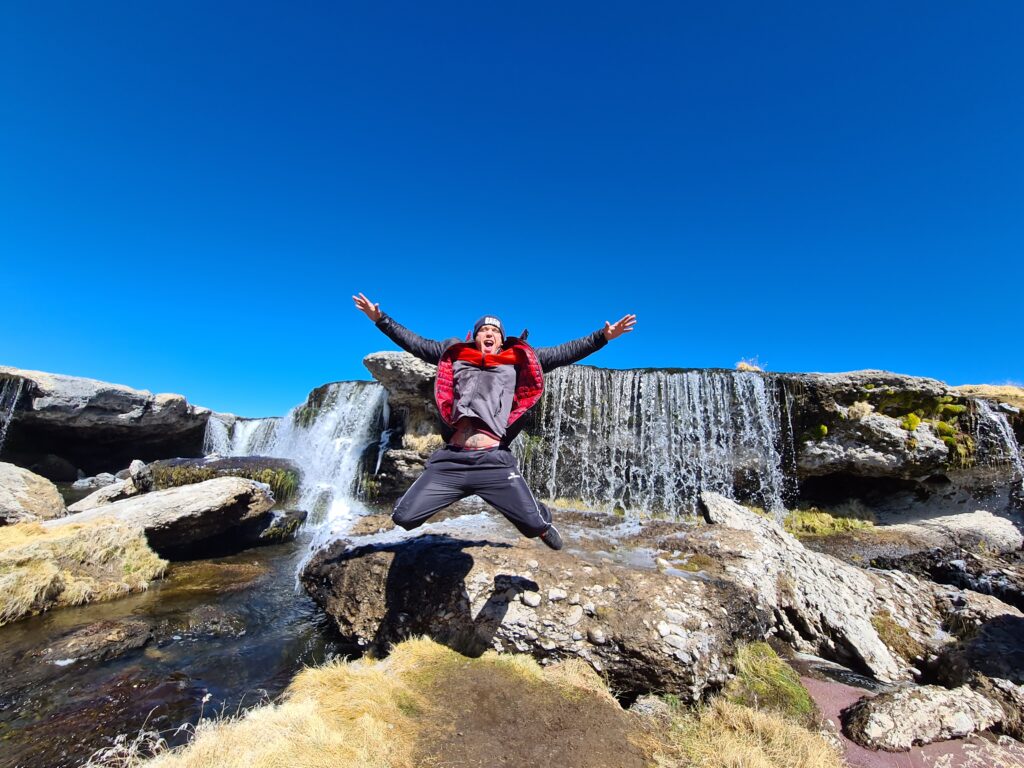 Waterfall #2: Catarata de Conchachiri – Instead of relying on its height, this delightful series of waterfalls enchant visitors by its undeniably unique formation. Despite being only 6 meters high, these waterfalls wrap around a rock formation that appears to be sunken into the desert by the gods. The waterfalls wrap around multiple curves that are eerily similar to mushrooms and evoke sensations of being from another planet.
Even the name showcases its exploration from two distinct worlds. Concha represents the Spanish conquest while "Chiri" is Quechua for something extremely cold. We got to witness this firsthand, since the waterfalls were frozen in certain parts and shamelessly decorated with snow. All these extremes only made the waterfall more gorgeous, so we recommend visiting any time of the year. We may not have enough money yet to visit space with Elon Musk, but we sure as hell can preview a different world with the Catarata de Conchachiri!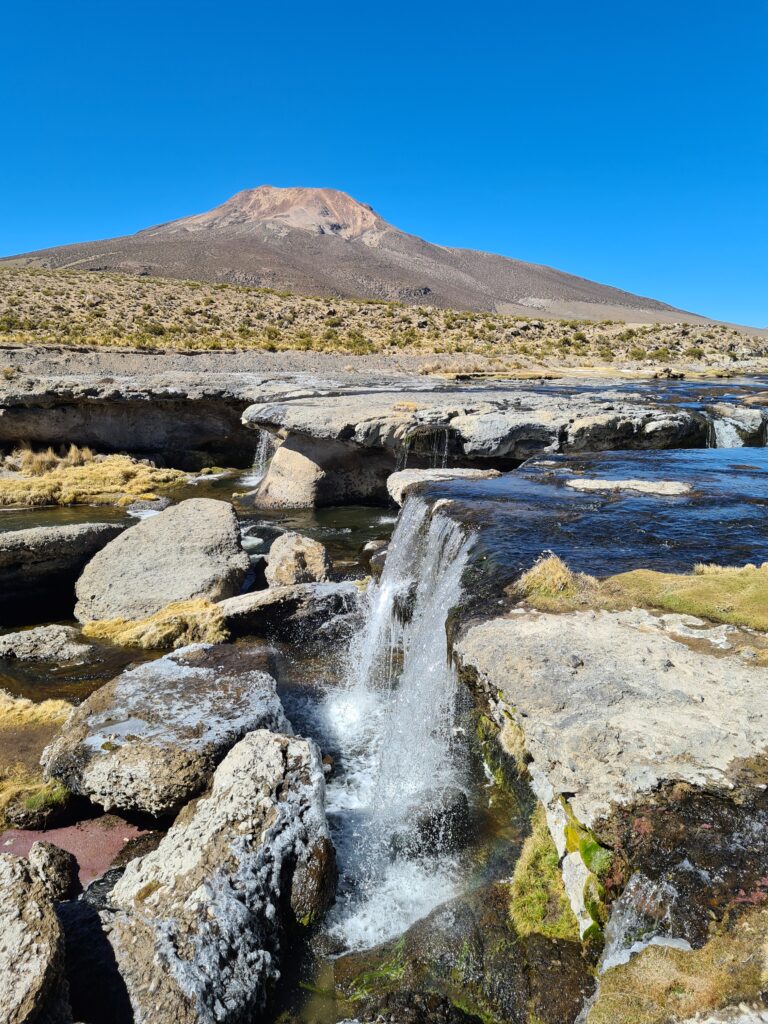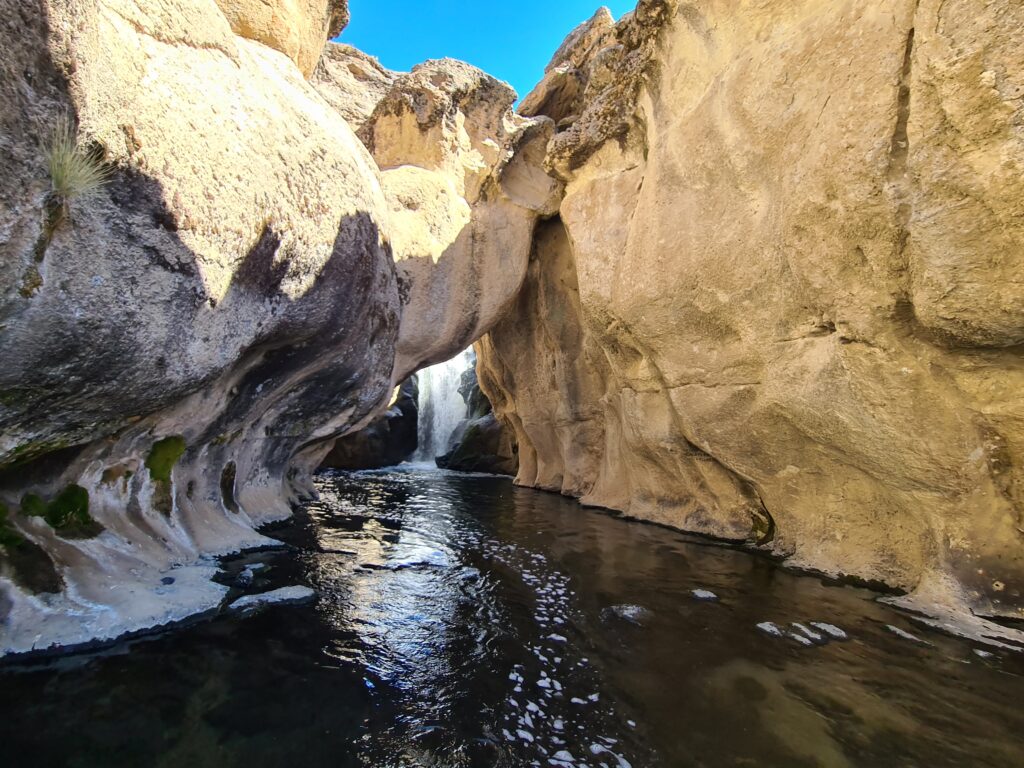 Waterfall #3: Catarata Calavera – This waterfall is less known than the other two on this list but is equally important to visit. "Calavera" translates to a human skull, and this hidden figure can be seen when viewing this waterfall from certain angles. Like the Catarata de Conchachiri, this waterfall is sunken down into the floor of the desert. What sets it apart is the natural hallway leading up to the falls that can be explored in canoe. The rock walls were expertly crafted by Mother Nature, and they provide the perfect backdrop as you float deeper and finally reach the waterfall. The sheer novelty of this waterfall's layout easily made it my favorite, so make sure to include it on your next trip to Tacna!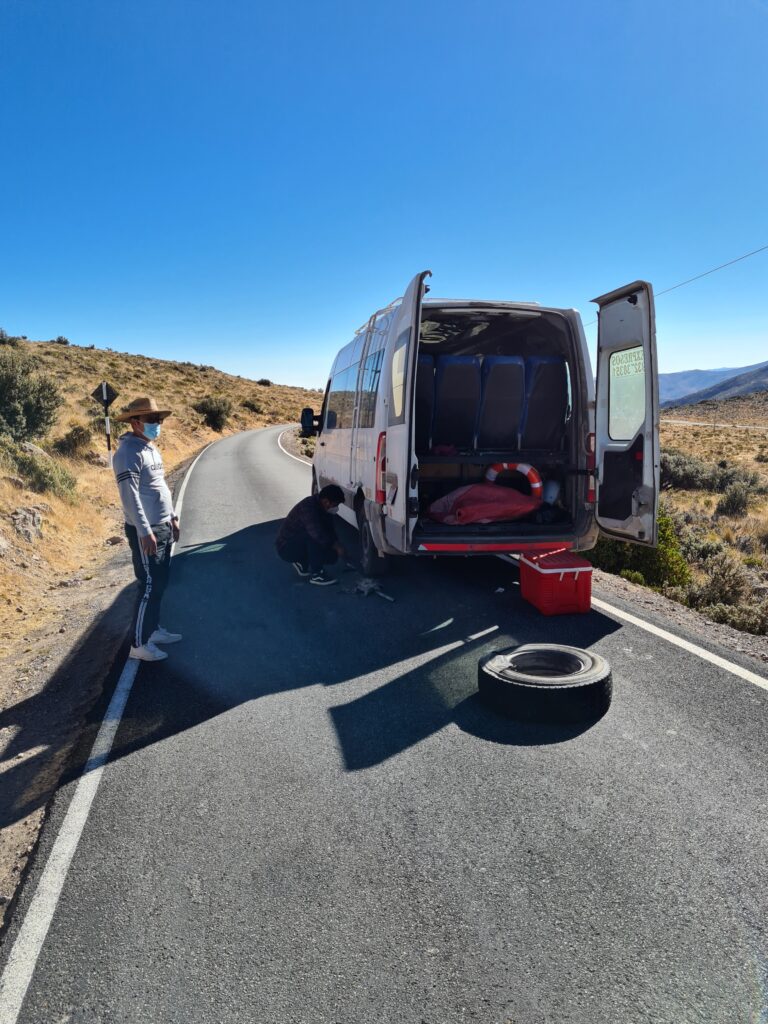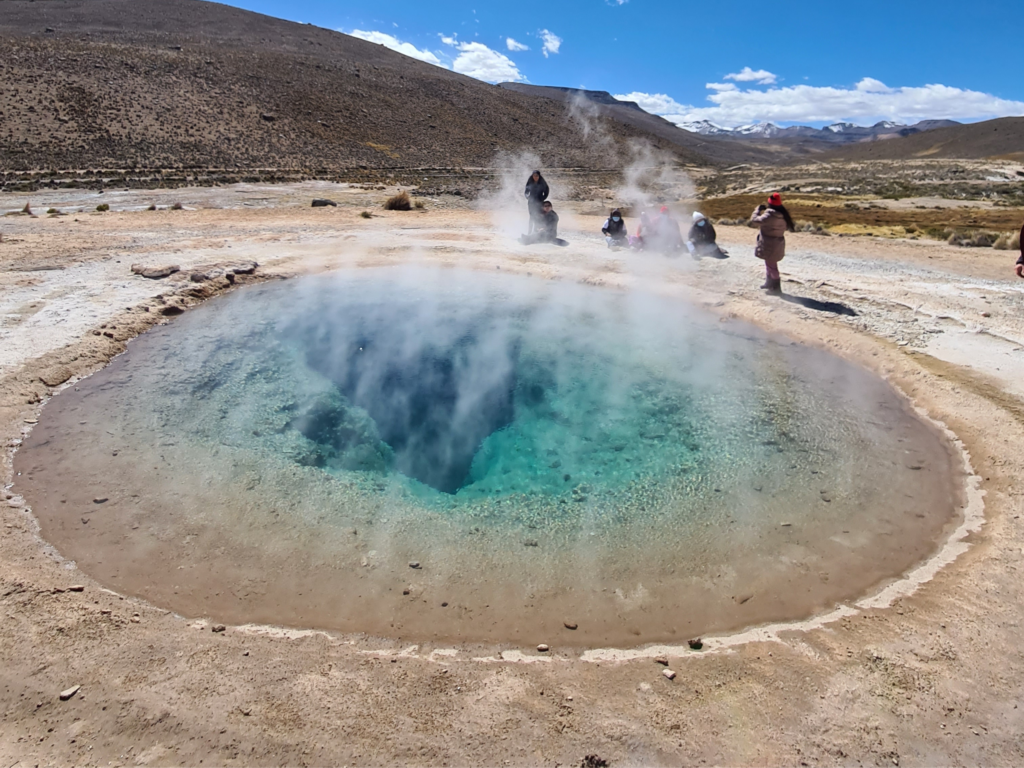 Bonus Attraction: Valle de los Géiseres – These breathtaking byproducts of volcanoes aren't waterfalls, but are enchanting enough to make the list. El Valle de los Géiseres is located 4 hours outside of Tacna in the Área de Conservación Regional Vilacota-Maure. This sprawling valley is so large that it encroaches on the Palca, Ticaco, Tarata, Susapaya, & Candarave districts. On the Candarave side is where the action is at, since it's absolutely packed with 85 hot springs. Their water temperatures range from 37°C to 80°C, and they appear to be drawn onto the earth by falling asteroids. Despite being intimidating, these springs are packed with enough sulfur to offer various health benefits to those who are brave enough to soak in them. This valley lets you dip your toes in another world, so flirt with another dimension with the Valle de los Géiseres!