When it comes to criminally overlooked areas of South America, Abancay emphatically makes it on the list. This is due to its strategic place in Peru's geography and history. From being the battleground of both the Incas against the Chankas and the Spanish Almagristas against the Pizarristas, Abancay is no stranger to controversy. To make things even more interesting, this city was home Micaela Bastidas, the wife of the revolutionist Túpac Amaru II. This potent mixture of game changing conflicts echoed throughout Peru and South America, and their effects are still felt to this day.
Despite playing a huge role in Peru's first cries for emancipation, Abancay routinely flies under the radar. It's nestled on the interoceanic highway between Nazca and Cusco, which makes it a key transportation hub. This is an interesting twist of fate, since Abancay has always been a crucial place for travelers. During the Incan empire Abancay was the gateway to the Incan city of Choquequirao. This hidden city was one of the final fortresses of the Incas and is affectionately called the "hermana sagrada de Machu Picchu". Like Abancay, Choquequirao is finally getting the restoration and international attention it deserves. It's the gateway to something magical, and contains connections to different eras that were crucial to Peru's evolution.
Even after being ground zero for the latest round of bloody protests in Peru, Abancay is developing at a lightning pace. Multiple mining companies are pouring money into the city to house their engineers at neighboring mines, and the private sector is following suit. Its downtown area is being filled with modern restaurants and hotels that are within walking distance to Micaela Bastidas' statue. What once was a forgotten town with a rebellious past is quickly turning into a blooming city that refuses to be ignored.
This hidden gem has always been on the Gringo Famoso's radar, which is why I decided to help Abancay make it out of the shadows and get the recognition it deserves. While this area is home to multiple attractions, in this article we're going to focus on its hot springs. On top of being an adventure to visit, their waters contain healing properties that can't be ignored. Prepare to get a dose of some of the most enticing healing waters in the Southern part of Peru!
Best Hot Springs Around Abancay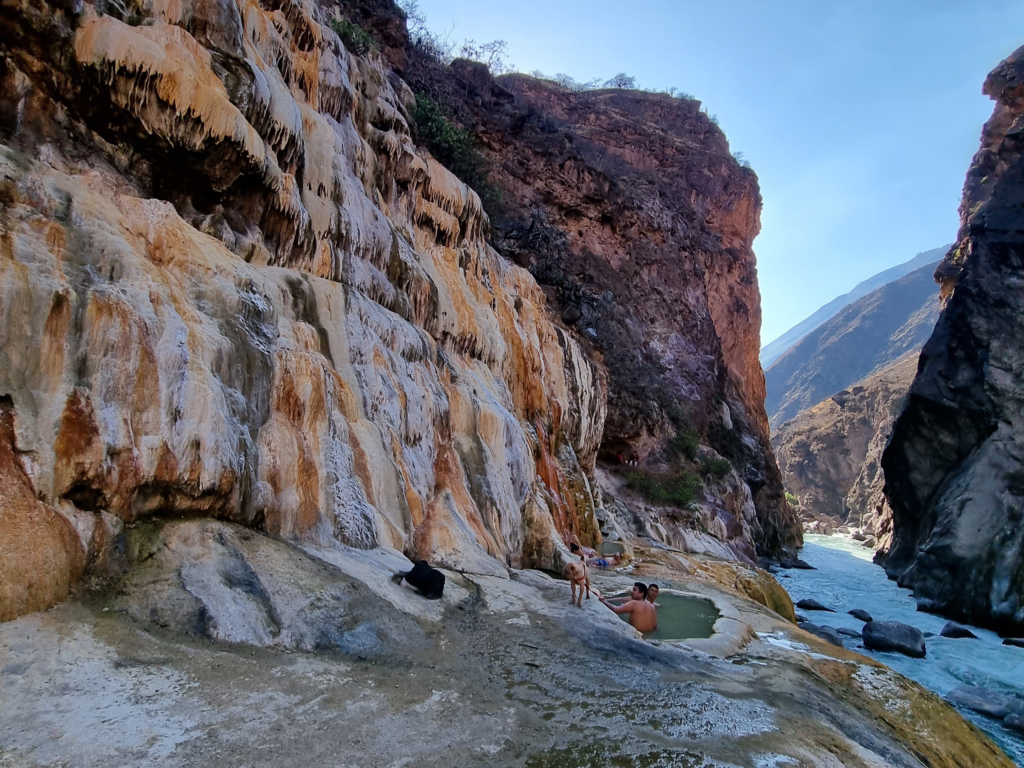 Hot Spring #1: Aguas Termales Santo Tomas – This hot spring is the closest to Abancay, which made it the first entry on this list. Even though it's just a 20 minute drive outside of the city in the Distrito Pichirhua, it's still fairly complicated to get to without your own car. It's an additional 40-minute hike from where the collectivo drops you off on the side of the highway. This trek winds through dirt roads, passes an old colonial bridge, and continues after you squeeze through a whole in a closed gate.
Despite making you feel like a homeless trespasser, this hot spring is surprisingly inviting once you reach it. The aguas termales are nestled on a rock cliff overlooking the turquoise waters of the Río Pachachaca. The pools are extremely shallow, but warm enough to make it worth accommodating yourself to fit inside them. As an added plus, the trippy rock formation surrounding the pools have enough colors to mesmerize even the most skeptical visitor. All in all, it's a gorgeous place to visit. The hike to reach it has no signs, so follow your instinct and test your luck to see if you find it!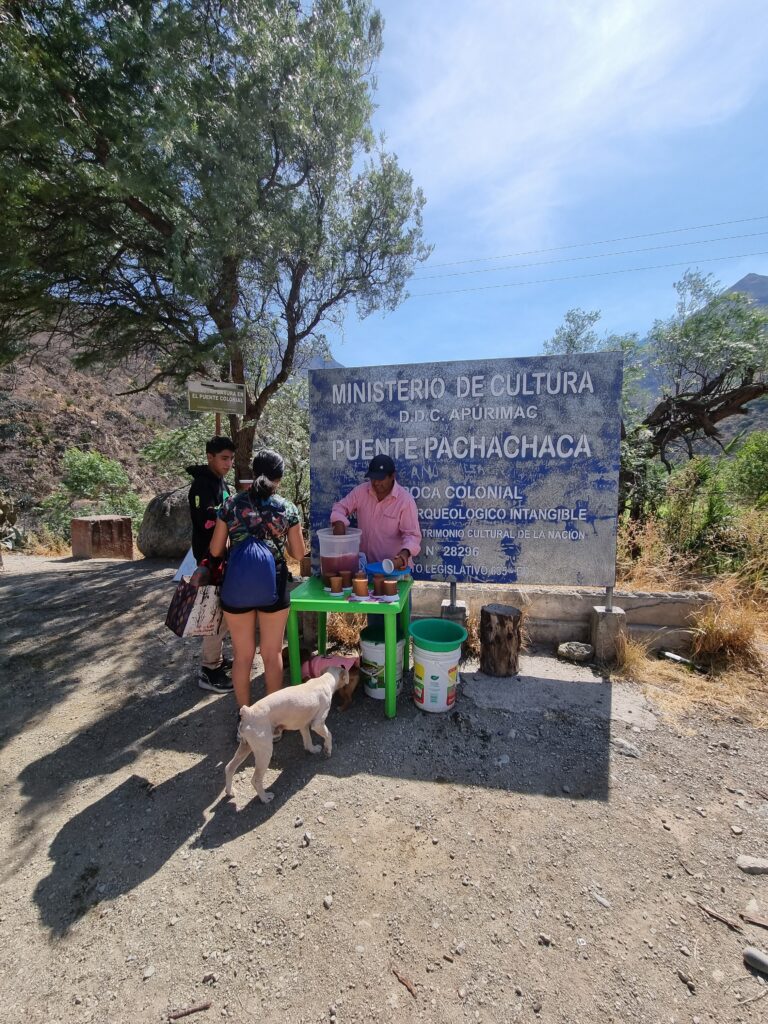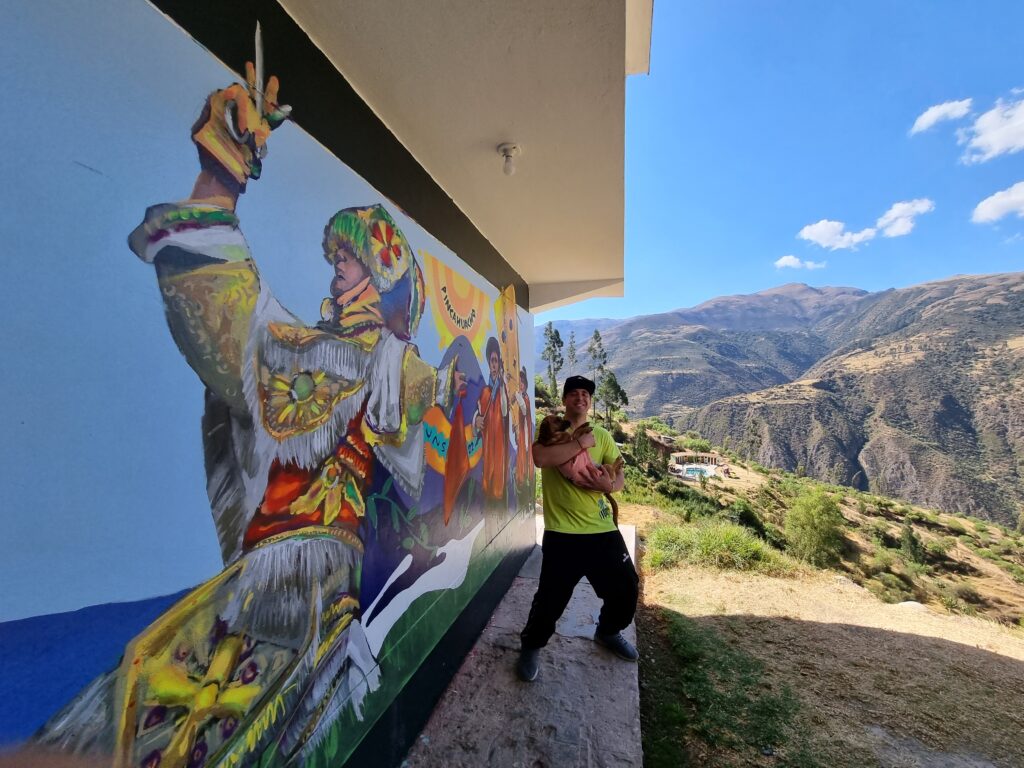 Hot Spring #2: Baños Termales de Pincahuacho – Unlike the previous hot spring, this attraction is built to receive large amounts of visitors. The Baños Termales de Pincahuacho are perched in the hills of Chalhuanca, which is a 2 and half hour drive from Abancay. Its waters reach up to 73° C, which equates to a staggering 163° Farenheight. These intense temperatures mixed with an ample mineral content give its waters healing effects on a myriad of ailments ranging from arthritis to bronchitis. There's no denying that they pack a punch, because by the time you leave your body is so relaxed it feels like you received a visit from Michael Jackson's doctor.
The hot spring is divided into 2 areas, a big building with private bathing rooms and a large pool behind it that's out in the open. Each spot has its strong points, and we dove headfirst into both of the bathing areas. Even though it was a close call, there was a clear winner. The private bathing rooms reached higher temperatures, but the outdoor pool stole the show. It boasts a gorgeous view of the surrounding hillside and the temperature of its water is high enough to provide all of the health benefits visitors are looking for. Soaking for an hour in the aguas termales are borderline hypnotizing, so come visit to take yourself to a different level of relaxation!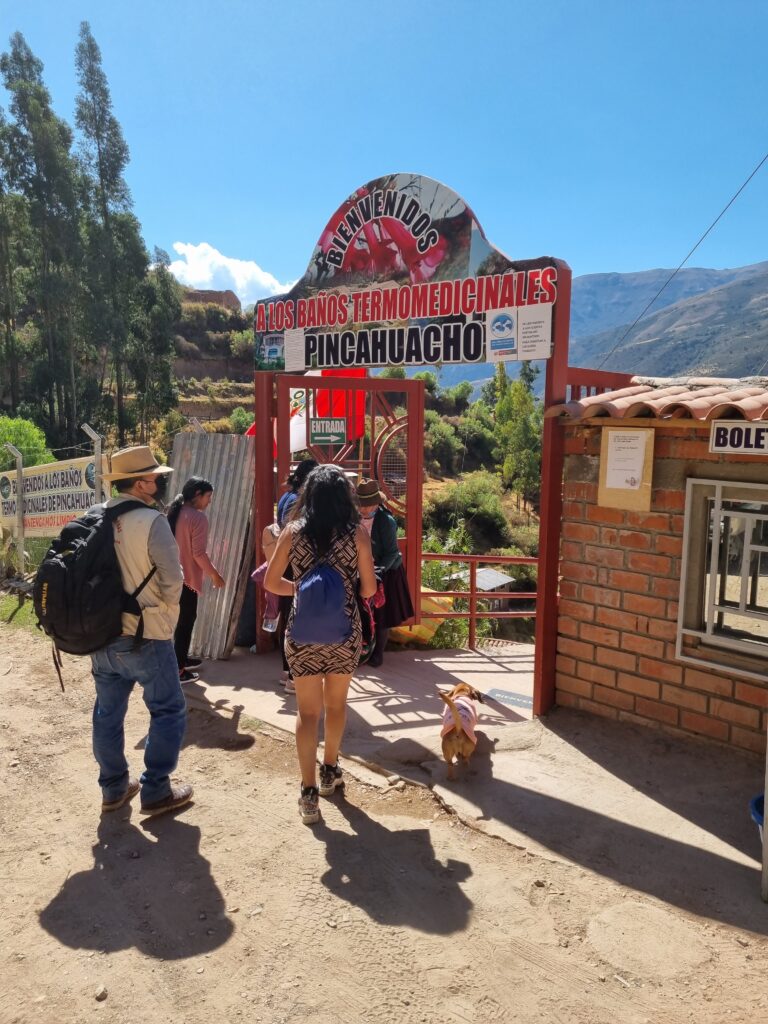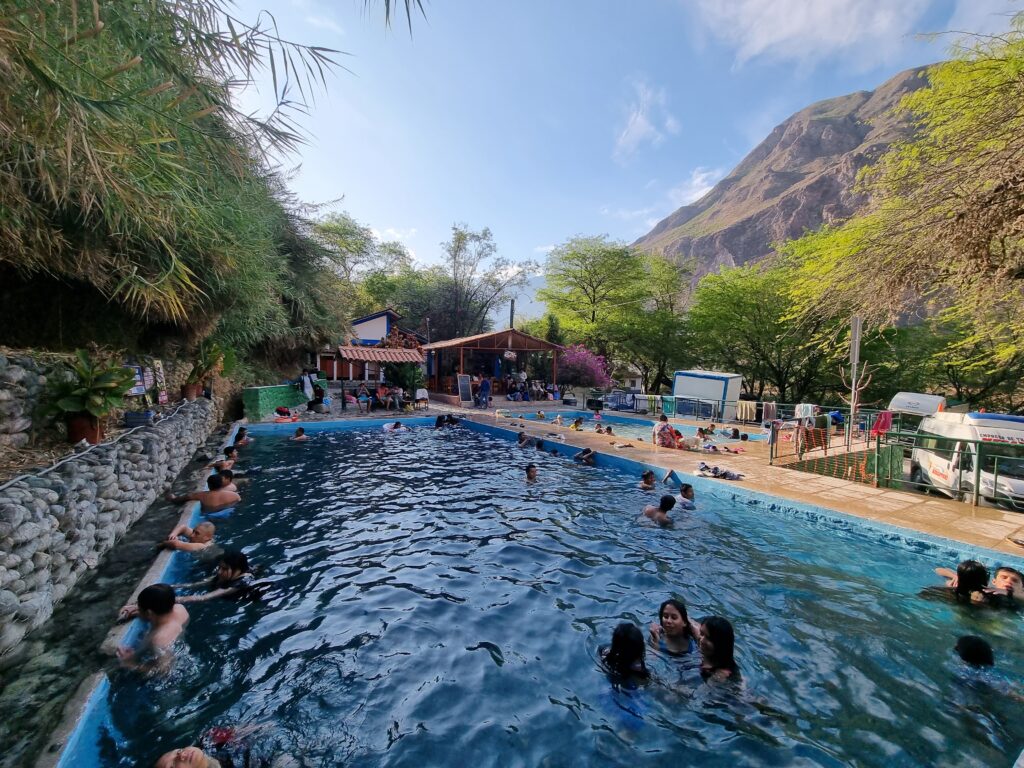 Hot Spring #3: Baños Termales de Cconoc – When it comes to natural attractions in Apurímac, Los Baños Termales de Cconoc steal the show. This lively hot spring attracts a steady stream of visitors from all of the surrounding areas, and it's easy to see what all the fuss is about. Even though its waters aren't nearly as hot as the other entries on this list, its location makes this area a hit. It's right in the middle of the route from Abancay to Cusco, and it's built to receive visitors. It boasts a couple bars and hotels that provide rooms and areas to camp on the banks of the infamous Río Apurímac. This lively backdrop manages to be overshadowed by multiple pools that are filled with everything from families to teenagers partying through the night.
To indulge in its crystal-clear waters and warm arid climate, visitors have to descend a couple kilometers down a winding road from the main highway. This gives Cconoc just enough seclusion to make it feel like you made it there by luck. The area is blessed with an interesting mixture of algarroba trees and cactus that are complimented by a breathtaking view of Río Apurímac. Everyone at this hot spring is there to have fun, so come by and visit to enjoy the best of both worlds!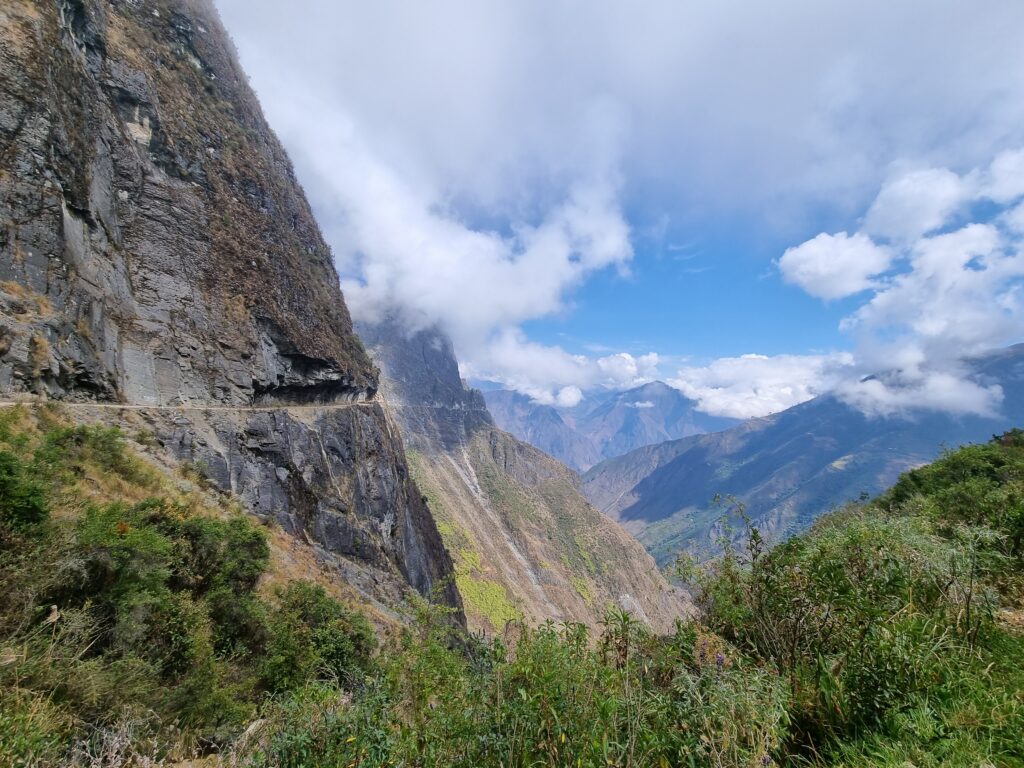 Bonus Attraction: Túneles de Karkatera – This isn't a hot spring, but it was unique enough to make it on our list. About an hour outside of Abancay are some of the craziest tunnels you will ever see. They were blasted into the mountain to make way for a highway that precariously winds through the rock and connects multiple pueblos around the other side of the mountain. There are 4 tunnels to explore that don't appear to have anything to do with the road. They are too small for a car to fit through, which makes them an adventure to walk through. These bizarre manmade caverns take visitors to different extremes of the mountain.
To make it even more intriguing, small holes were blasted through the rock all the way to the other side. This provides gorgeous views the Valle de Pachachaca with a massive drop that's high enough to jump off and paraglide. Even if you aren't in the mood for extreme sports, it's the perfect place to sit and soak in the beauty of the valley. On the other side of the mountain are the Cascadas Petrificadas de Qelloyaku. These petrified falls look like they were frozen by the gods. They seem delightfully out of place, which makes them the perfect combination to such a novel system of tunnels and cliffs!