Tarapoto is easily one of the most beautiful places in Peru. Ever since its founding in 1782, Tarapoto has been treasured by everyone who visited it. It was affectionately named "La Cuidad de Las Palmeras" by the Spaniards, and the city's name comes from the "Taraputus" palm tree in San Martín. Ironically, today there aren't any palm trees in Tarapoto. Over the years the Taraputus palm trees have been cut down as most of the city was taken over by houses and businesses. What was once a remote jungle outpost has quickly evolved from a small town into a bustling city.
Despite the rapid urbanization within city limits, there's no shortage of nature to explore. Tarapoto is the gateway into the jungle, which makes it the perfect jump off point to the Amazon. This the "ceja de selva", mountainous jungle that's bursting at the seams with waterfalls and exotic natural wonders that can't be found anywhere else. When visiting, there's no denying that Tarapoto has been blessed by Mother Nature. It has an abundant amount of natural attractions that's constantly growing as more areas become opened to outsiders by the local native communities. We have already covered Tarapoto's top waterfalls, which makes it the prime time to focus on its caves.
Going underground provides a glimpse into a different world, especially in the jungle. These portals into the Amazonian mountains are filled with a mysterious energy that can be felt by even the most skeptical visitor. Being underground also provides a glimpse at a unique ecosystem that's filled with animals that can't be found on the superficies. When entering them, it feels like you are venturing into a different world. These jungle caves are absolutely breathtaking, so come take a quick literary adventure with el Gringo Famoso!
Best Caves to Explore Around Tarapoto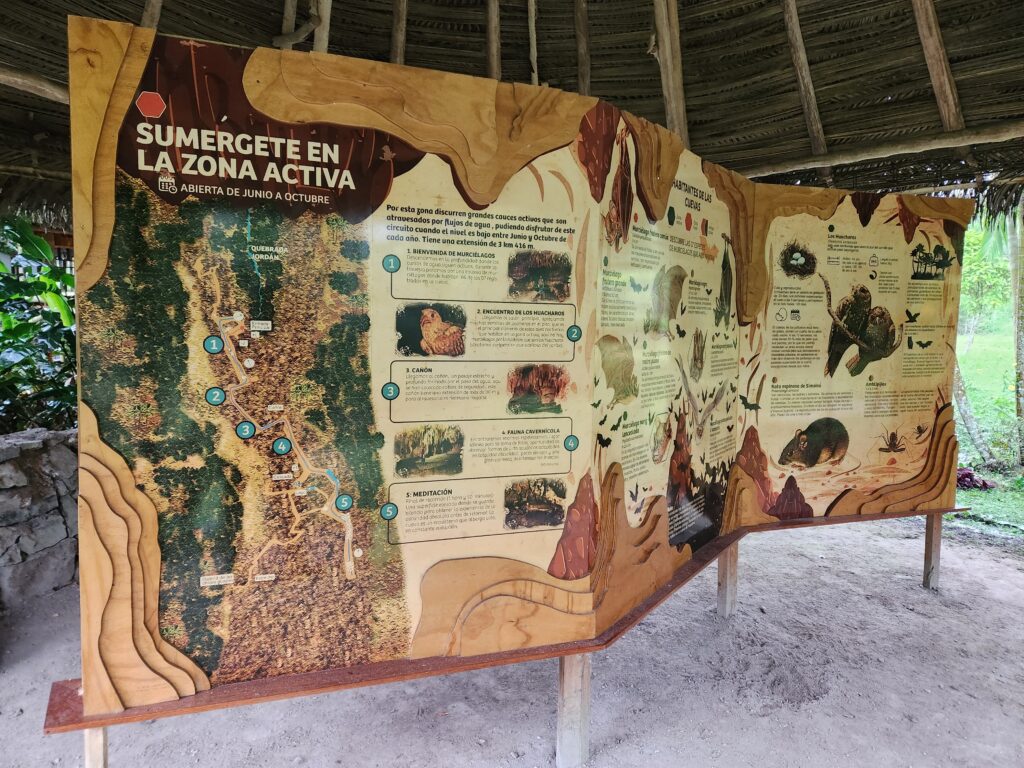 Cave #1: Cueva de Palestina – On top of being surrounded by some of the most biodiverse jungle in the world, the Comunidad Palestina is home to a surprisingly extensive cave. Clocking in at 3.5 kilometers from the entrance to its depths, the Cueva Palestina is the 2nd longest cave in Peru. It's nestled in the mountainous jungle about 45 minutes outside Rioja in the province of Nueva Cajamarca. This translates to a 2-and-a-half-hour drive from Tarapoto, but it's well worth the excursion. The drive is fairly interesting, especially when you get off the main highway. We went during a period when strikes were resounding throughout Peru. One area of the highway had just been opened by the protestors and we had to go in the dead of night. This made this experience even more of an adventure since we were lucky to even reach the cave.
Even though it's hidden in the middle of nowhere, this cave is well taken care of by the local community. The entrance has a restaurant and plenty of signs that highlight the various animals and rock formations that can be found inside the cave. Due to the heavy presence of nocturnal birds called huacharos, this cave has been affectionately dubbed "La Gruta de los Haucharos". It's bursting at the seams with stalactites and stalagmites that come in a myriad of shapes that resemble animals and popular characters from Amazonian lore. Limestone inside the cave has been dated at 60 million years old, which has led to explorations from international organizations such as the Bristol Exploration Club(BEC). La Cueva Palestina is easy to access and a joy to visit, so come by and explore this hidden attraction!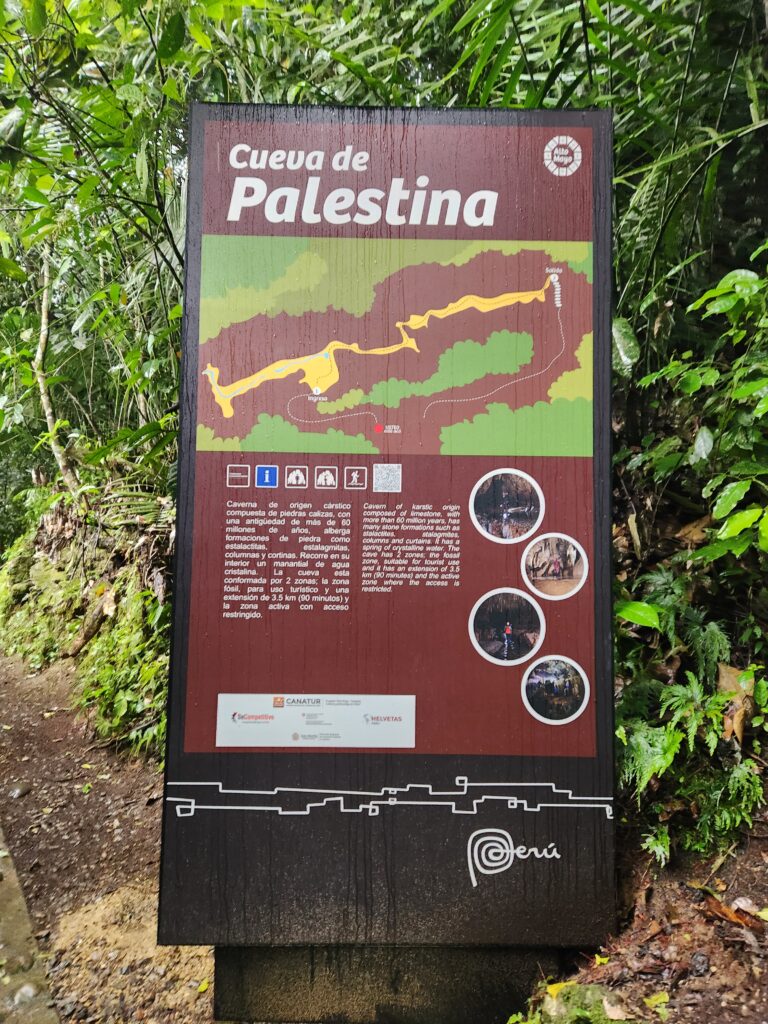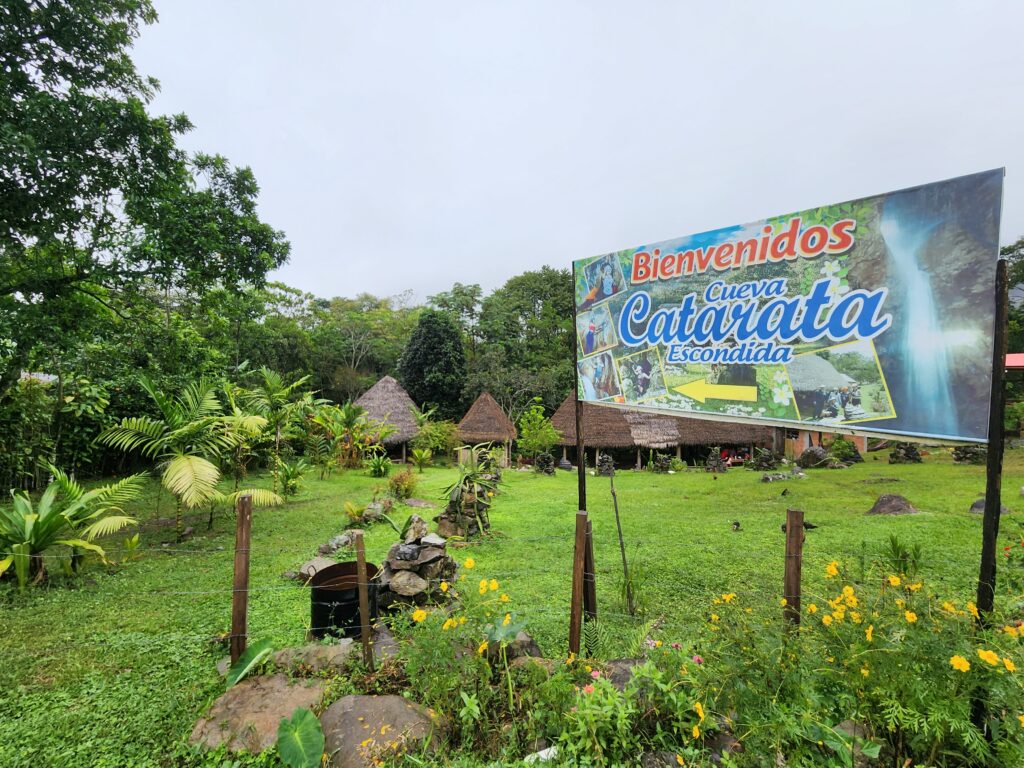 Cave #2: Cueva Catarata Escondida – For those who are looking for an adventure, this cave checks all the boxes! It's tucked away in el Caserío la Florida in the district of Nueva Cajamarca, which is about 30 minutes away from la Cueva Palestina. While the first cave on this list is well maintained and easy to walk through, La Catarata Escondida is a different story. Its entrance is right on the banks of a raging river and is small enough to miss with the untrained eye. Due to its location, this cave is constantly in danger of being consumed by the river when heavy bouts of rain fall upstream. This can leave you stranded in the depths of the cave until the river goes down. For this reason, only go with locals and follow their instructions on whether the cave is safe to visit.
After you squeeze through its entrance, the adventure begins. The cave dives straight down into the earth and doesn't stop until you hit a new floor 200 meters underground. This shocking drop forces visitors to cling on for dear life to a series of rocks and cables as they make the descent. Once you make it to the bottom floor, you are greeted by a pretty waterfall with crystal clear water. This is an invigorating cascade to bathe in and provides just enough adrenaline to make it back up to the surface. La Catarata Escondida is worth the risk, so push yourself to the limit with this delightful anomaly!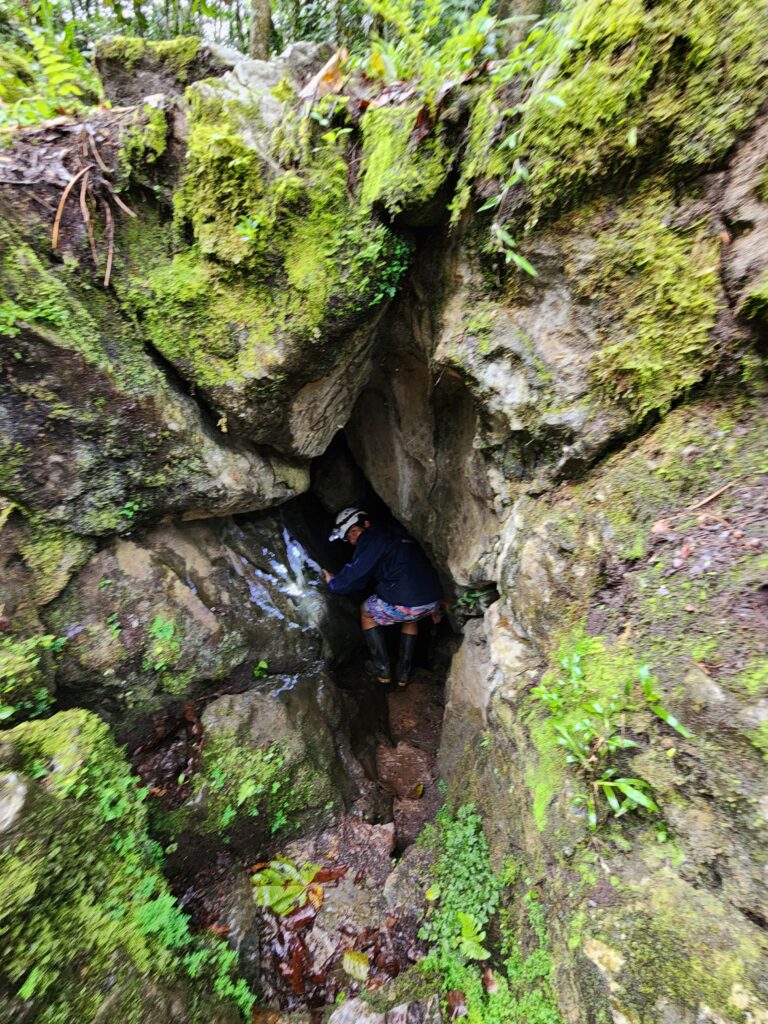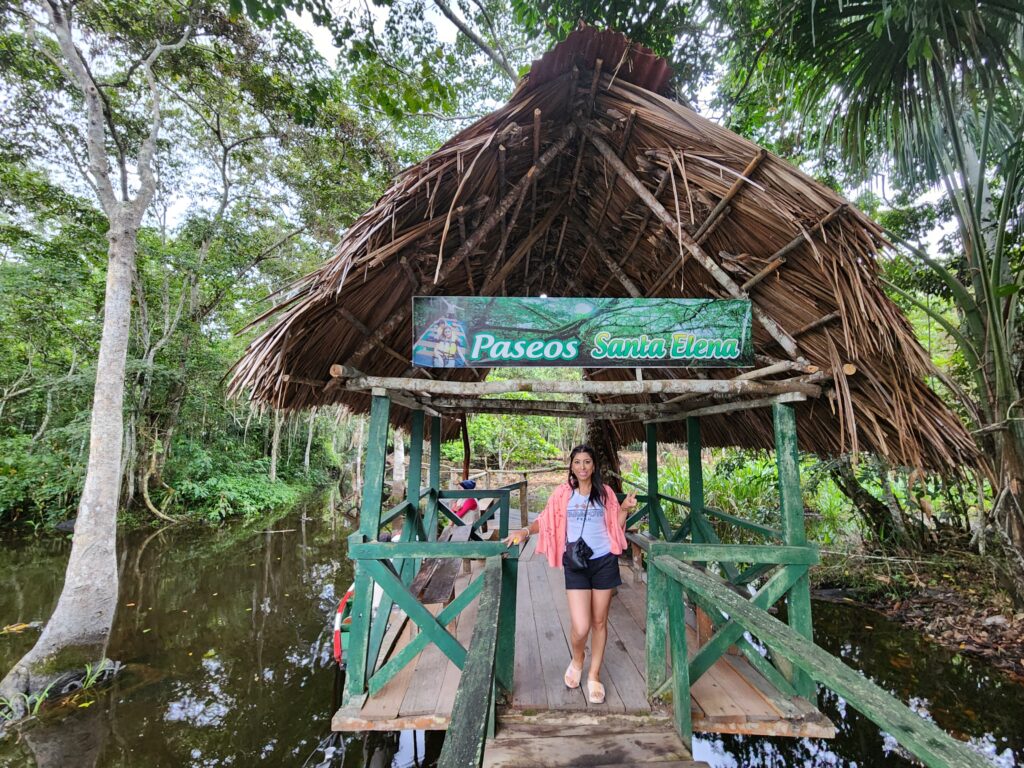 Bonus #1: Reserva Ecológica Santa Elena – This attraction isn't a cave, but its strategic location makes it the perfect pitstop when visiting the caves on this list. La Reserva Ecológica Santa Elena is a sprawling Zona de Conservación y Reucuperación de Ecosistemas that spans a staggering 1,000 hectares outside Rioja in the Pósic district. It's right off the highway you take to reach the caves, so there's no excuse not to visit.
A large part of Santa Elena is inundated in water, so tours are made in boats that wind through the reserve. This makes the experience even more enchanting since you get to float below a wide range of jungle trees that appear to be jumping out of the water. On top of providing a mystical backdrop, these trees are bustling with a wide range of monkeys and exotic birds. As you float around the reserve your senses are greeted by a symphony of noises from various animals and insects. In the distance monkeys are howling at the top of their lungs, but by the time the sound reaches you it seems like an echoing roar that came from another world.
From the boat ride to the abundant amount of nature, this eco-reserve provides an undeniably unique view of Peru's biodiversity. I've travelled through most of Peru's jungle, and even I was impressed. We were even blessed with a light rainfall as we putted through the rainforest. This brought out mariposas and a slew of other neon-colored insects. It was a jaw dropping experience that managed to enchant some of the most jaded travelers in Peru. La Reserva Santa Elena makes an impression, so don't miss it if you are in the area!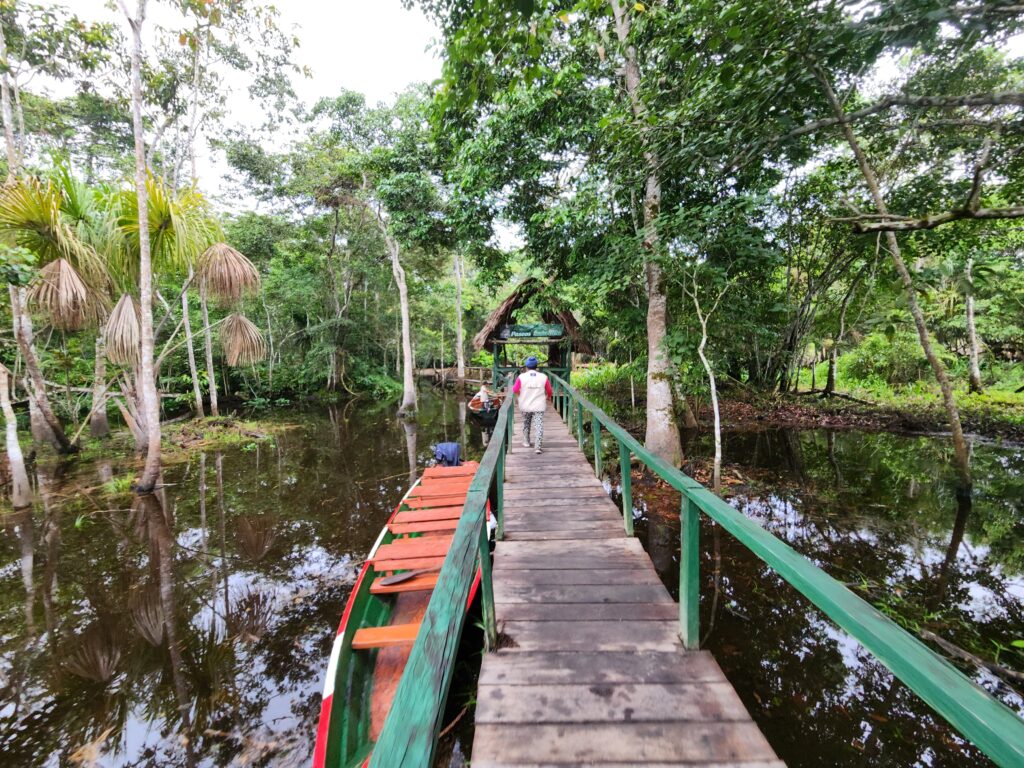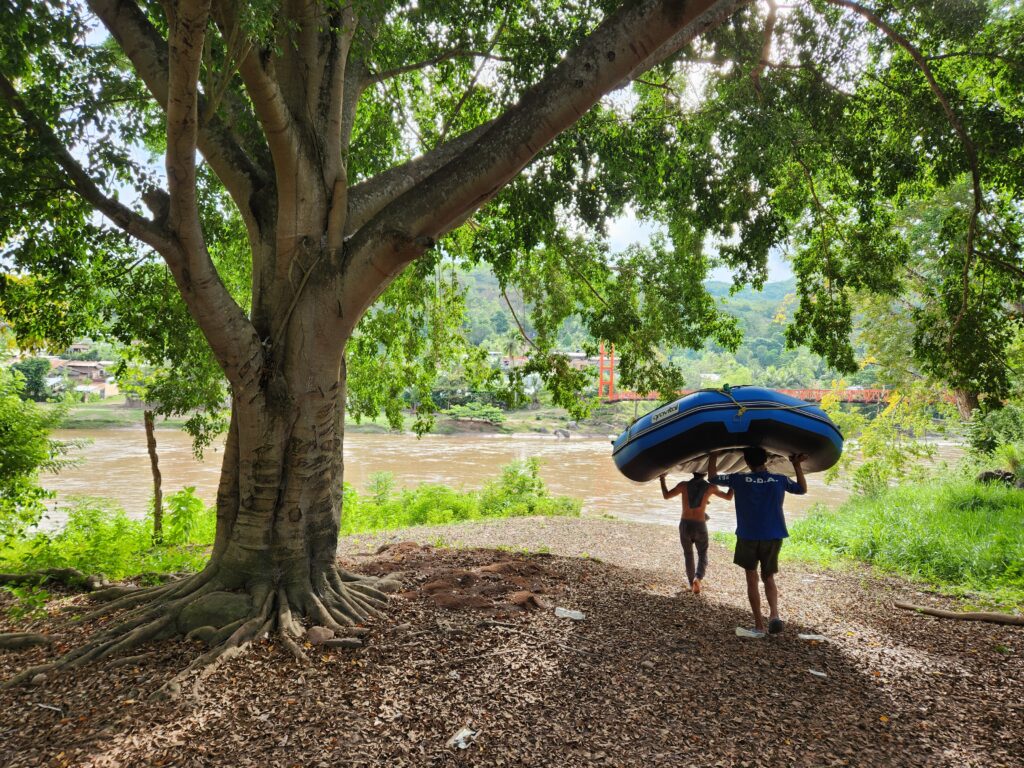 La Yapa: Canotaje Río Mayo – This activity has nothing to do with anything on this list, but was cool enough to make it in the article! If you ever need a quick thing do to in Tarapoto, river rafting is your best option. Tons of tours are available at a minimum cost and run during both the morning and afternoon so you can pick when you want to escape. After driving 30 minutes from Tarapoto to the poblado de San Miguel the river rafting groups embark down Río Mayo. Its waters lazily wind through the jungle, but don't let it fool you. It goes from calm to really rough in multiple sections, which provides just enough suspense to make it an adventure. The scenery is simultaneously serene and chaotic, which provides the perfect environment for river rafting extravaganzas!